Welcome to..."Only Imagine Graphics"!
Hopefully, 'somewhere in time' this will be an interesting page to visit
as I continue adding new material regularly.
********************
********************

I make customized animated graphics.
Let me animate your image.
See details at my"Animated Graphics" page.
********************
I have FREE Outlook Express Stationery for download.
I am now updating all my designs to work better with
wide screen

monitors.
Please continue to check back for updated material.
Some designs are animated.
I will also do personalized stationery designs,
as well as other personalized graphics..
(Here you can see a few examples using pictures of my friends and family.)

Please do me a favor and sign my'guestbook' below.
I'd like to know you visited...Thank you.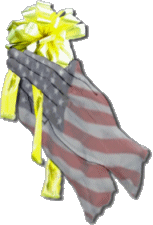 On this September 9, 2011...
.. I'm very grateful for all that we have, and for our freedom that is being paid for by our armed forces, wherever they may be right now. May we all keep them in our prayers!
This 'Power Point' slide show was sent to me in an email, and I want to share it.
I have no idea who created it, but..thank you...and thank you too, my friend Sonja, for sharing.
This is in remembrance of all those who lost their lives or loved ones on that day we will never forget!


I am privileged to have been asked to animate the CD version
of "Someday We'll Understand", and also "Hero In My Eyes".
You'll find the CD in the back of the books. When inserted into your computer,
the books will become interactive, and the pages will be ANIMATED, like cartoons!


Be sure to see my
on the 'Personalized Graphics' Page!!
Celebrate a birthday, anniversary, or any special occasion!!
These make WONDERFUL
keepsakes to GIVE or KEEP!!


New free Outlook Express stationery is added regularly....please check back often

I've added a new page just for NEWS about designs recently
added or changes that have been made.
I hope this will make it easier for you to navigate my site,
and find the latest and updated. Just click the link below.
AND



New Christmas Design JUST Added!
Updated 11-16-2010
****************************
I'm proud to be able to use some
very SPECIAL music by
James Rogers
on many of my collections.
Be sure to see them all!
***
James is a regular featured performer at Dollywood in Pigeon Forge, TN.
To find out more about him, and his wonderful music, or to purchase his music, go to his web site:
http://www.jamesrogersonline.com/

ALSO:
I am happy to be the creator and maintainer of the official website for his FAN CLUB,
"Friends of James Rogers"
http://www.friendsofjamesrogers.com/
You can find out more about James at either web site, and also find his performance schedule.
And whenever you get the chance to see his shows...make special effort to do so.
You WON'T be disappointed!